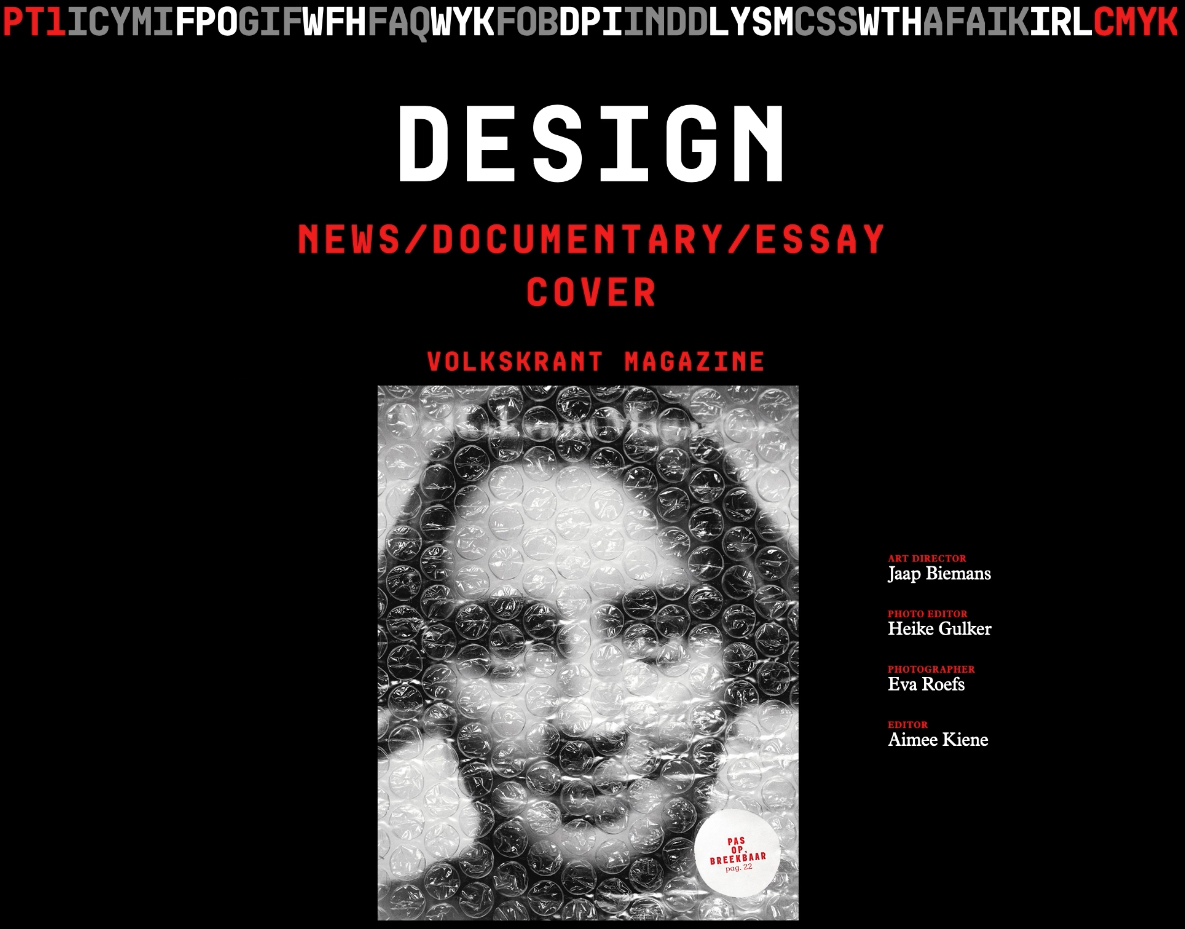 2023: Over the moon by winning Silver Award at SPD 58, New York
for best News/Documentary cover, Volkskrant Magazine
New York, USA
note: This cover was also nominated in the big category Best Cover of the Year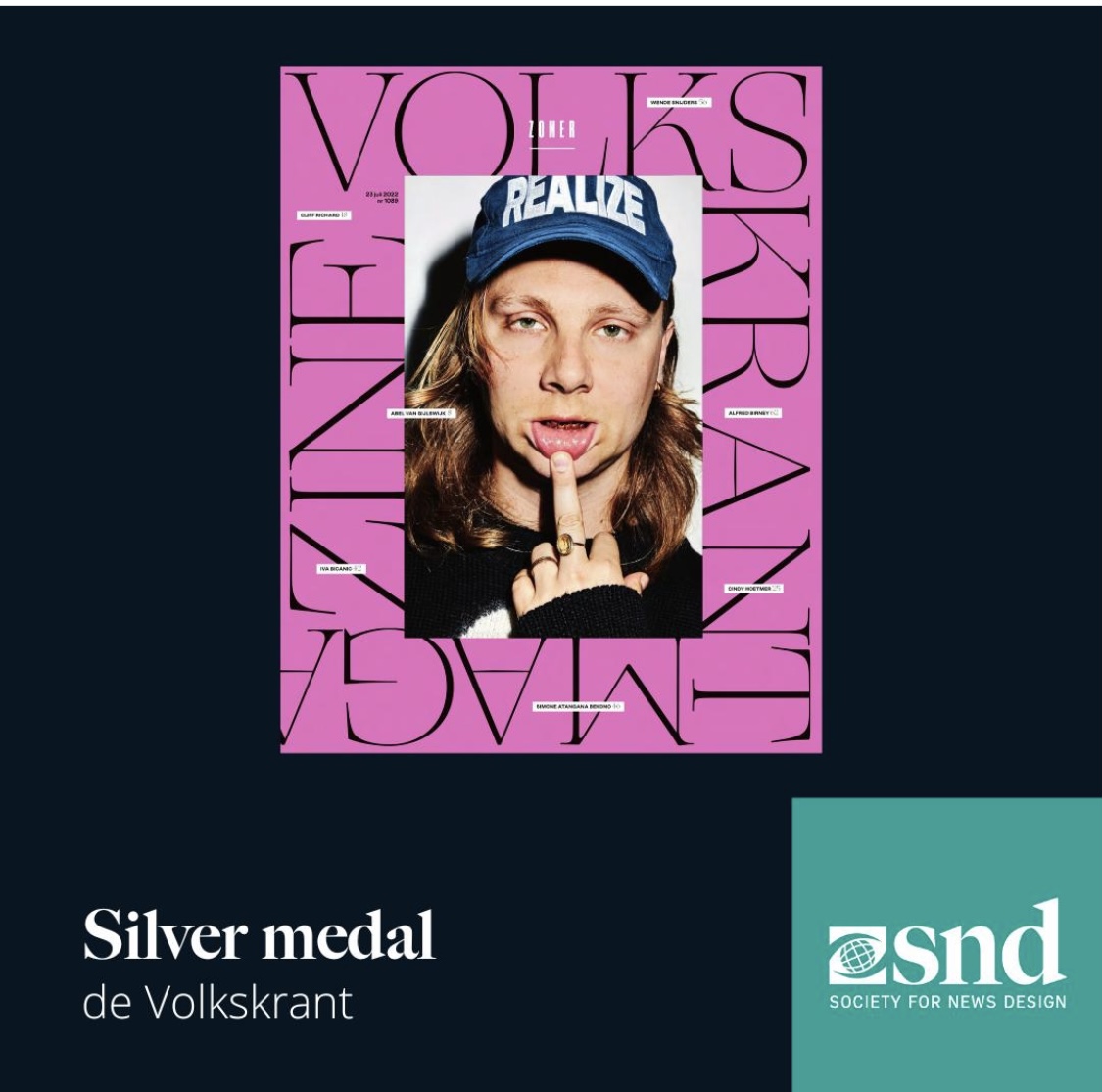 2023: Summer issue Volkskrant Magazine won silver at SND for design entire issue.
Category "Overall Design"
Judges: "I like that they 're not afraid to experiment with style and color, but yet, it remains cohesive. It's exiting and a surprising delight."

2022: Awarded a Silver Cube for 10 covers 2021/2022 ADC The One Club for Creativity (New York)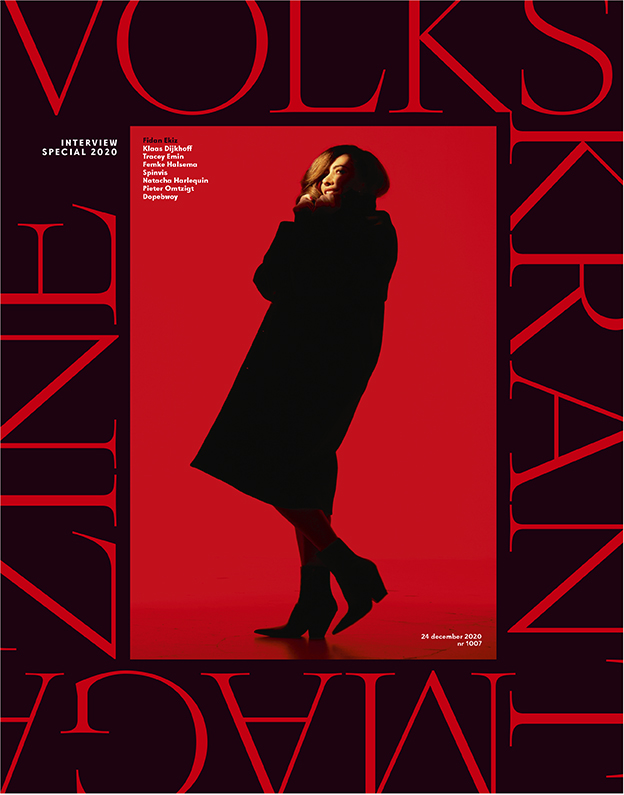 2021:
Silver award SPD New York
Best Typographic cover  (Society Publishing Designers)
Photography Aisha Zeijpveld
New York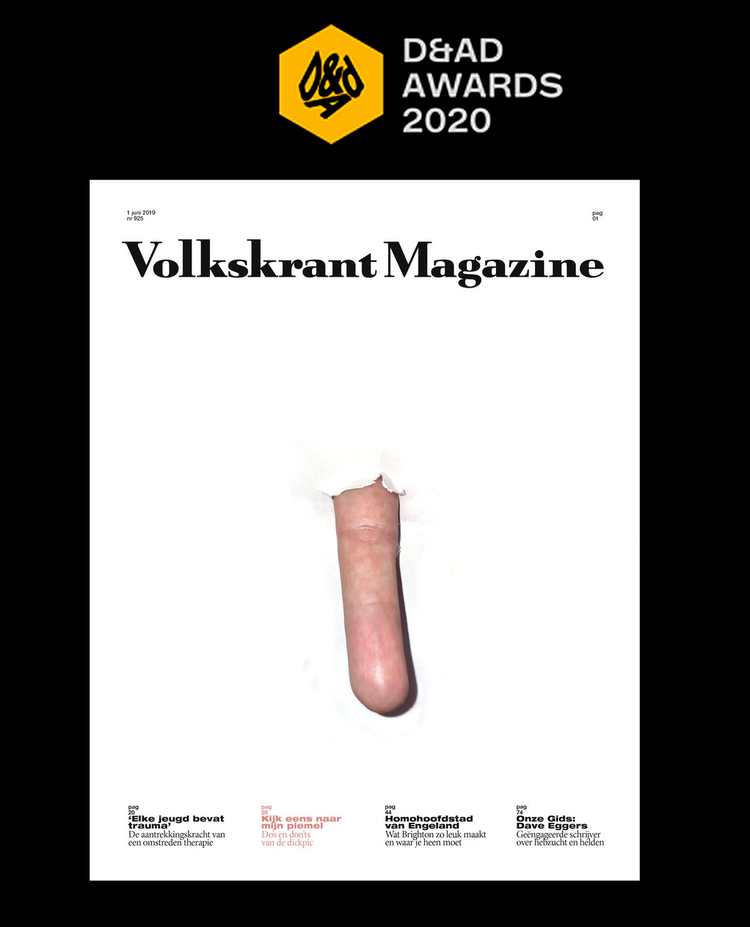 2020:
D&AD Pencil
Volkskrant Magazine winning graphite pencil with this cover design about dick pics.
London, UK

2020:
Two Merit Awards SPD55 (New York)
Cover on top about dickpics, artwork Beni Bischoff
Cover underneath, artwork Anna Kiosse
2019:
two Merit Awards SPD, New York.
Best designed cover & best illustrated cover
-category 'best illustrated'-cover; artwork by Jan Rothuizen
-category 'best designed'-cover; design Jaap Biemans & lettering Anna Kiosse
2019:
SPD Merit Award;
10 covers designed by legends
Volkskrant Magazine's April 14, 2018 issue featured 10 split-run covers designed by "legends and aces from the editorial world." The theme of the issue was "creativity" and Mirko Borsche, Anthony Burrill/Ewoudt Boonstra, David Carson, Wim Crouwel, Paul Faassen, Erik Kessels, George Lois, Rodrigo Sanchez, Richard Turley, and me, Jaap Biemans in collaboration with Anna Kiosse were tasked with tackling the subject.
2018:
Mercur COVER OF THE YEAR
The project alone was such a joy; working with all that talent like Mirko Borsche, George Lois, Wim Crouwel, Richard Turley but it even got better when awarded with the 2018 Mercur Cover Of The Year-award
2018:
2 Merit Awards SPD 2018 New York (the Society of Publication Designers)
– best designed cover, artwork Monique Broring (bottom)
– best photography cover, by Oof Verschuren (top)
2017:
Society Publishing Designers (New York)
4 Merit Awards SPD 2017 New York (the Society of Publication Designers)
– best illustrated cover; thanks artwork Paul Faassen (top left)
– design entire issue (top right) thanks Selwyn Senatori
– best illustrated cover (bottom left) thanks Sasa Ostoja
– best design cover (bottom right) thanks Ivo van der Bent & Eva Roefs
2016:
Silver Award at Society Publishing Designers (New York)
silver SPD Award 51, New York
"Best Illustrated Cover"
Artwork Paul Faassen
2016:
Two (!!!) ADCN Lamps in category:
-Art Direction
-Graphic Design
2015:
Society Publishing Designers (New York)
Nomination THE big one:
SPD 50: Cover of the Year (New York)
Artwork Paul Faassen
2015:
Society Publishing Designers (New York)
Merit SPD 50 award  (New York)
Artwork Selwyn Senatori
2015:
Society Publishing Designers (New York)
Merit SPD 50 award (New York)
Photography Marc de Groot
2014:
SPD 49 Merit Award 2013 (New York)
Photographed by Lukas Gobel, post production by Jan Hibma
(All inspired on fab artwork from Erwin Blumenfeld out of 1945)
2013:
Volkskrant choosen as European Newspaper Award
including this frontcover (page 1 & page 3)
about the introduction of the new Volkskrant website
2014:
awarded Prix de C'Oeuvre (Netherlands)
all Volkskrant Magazine cover designs 2012-2014
2013:
SPD 48
Merit Award (New York)
Photography Anne Claire de Breij
2013:
SPD 48 Merit Award (New York)
photography Cornelie Tollens
2012:
SPD 47 SILVER award (2012, New York)
category "design independent mags"
2011:
Mercur Award (Netherlands)
Best Cover Of The Year 
2008;
Best cover award by Mediafacts 2008 (Netherlands)
categorie business magazines.
Photography Mieke Meesen
2005:
Nomination Best Cover Design
by Mediafacts (Netherlands)